To make an advising appointment:
Students who are not assigned to CCAS, or would like to see another CCAS advisor are encouraged to use the Appointment Request Form

Schedule online (for CCAS-assigned students only):
CCAS advisors do not schedule appointments via e-mail.
Need accommodations for your advising appointment? Request them here
Drop-in advising is available for undergraduate students with quick advising questions, while the fall academic term is in session, beginning Wednesday, September 8.
Drop-ins are held Monday-Thursday, 1:00pm-4:30pm in:
124 Witte Residence Hall
1130 Dejope Residence Hall
Drop-ins will not be held on Fridays, weekends, or days holidays & breaks when class is not in session.
CCAS partners with the Career Exploration Center (CEC) which offers career advising for undergraduate students. To schedule a one-hour or 30 minute career advising appointment with a CEC advisor: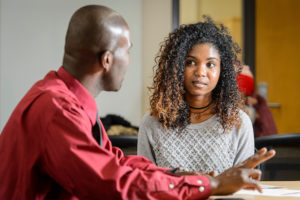 Need accommodations for your advising appointment? Request them here