CCAS Main Office
The CCAS Main Office is located at 10 Ingraham Hall. Ingraham Hall is located on the 80 bus route. Room 10 is located on the ground level of Ingraham Hall, which is accessible by elevator from the first floor.
This main office is open Monday-Friday, from 8:30am-4:30pm. Advising appointments are offered from this location throughout that time.
The main office can be reached at 608-265-5460, or ccas@ccas.wisc.edu.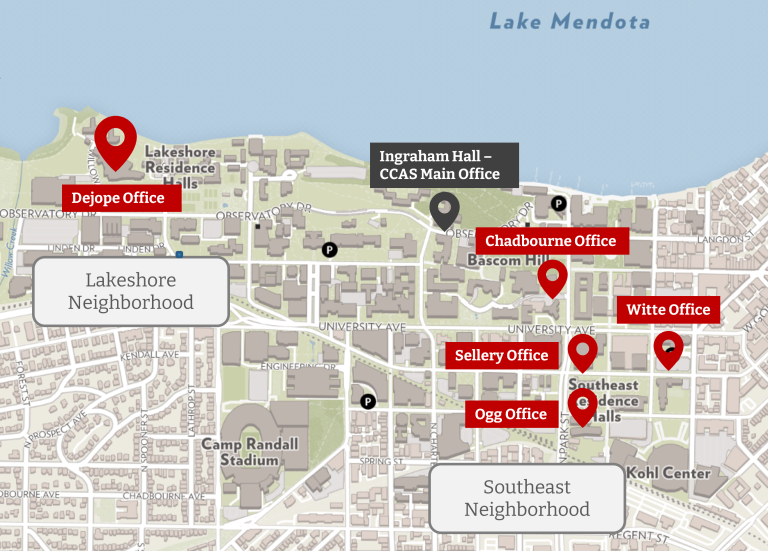 CCAS Residence Hall Offices
CCAS also has four office locations out of campus residence halls, where advising appointments and drop-in advising is available. Drop-ins and appointments take place Monday-Thursday, 12:30pm-4:30pm in these locations.
Please note: Drop-in advising will resume Wednesday, September 6, and continue throughout the fall semester when classes are in session. Drop-in advising is not offered over the summer. 
CCAS Residence Hall locations: 
Chadbourne Residential College (CRC), Room 101B (open Wednesday & Thursday only)
Dejope Residence Hall, Room 1130
Ogg Residence Hall, Room 116 (Open Monday & Tuesday only)
Sellery Residence Hall, Room 145
Witte Residence Hall, Room 126
All CCAS residence hall offices are located on the first floor of residence halls, all of which have accessible entrances. Most residence hall locations are close to a stop on the 80 bus. The accessible entrance to CRC is located behind the building.